Ahead of his keynote presentation 'Never waste a good crisis: using reverse innovation to harness the power of AI in healthcare during the Covid-19 pandemic' at Intelligent Health UK 2022 (6-7 April, ExCeL London), we asked Alexander Bedenkov, VP Medical International and Global A.Catalyst Network Head, AstraZeneca, his thoughts on the future of AI in healthcare.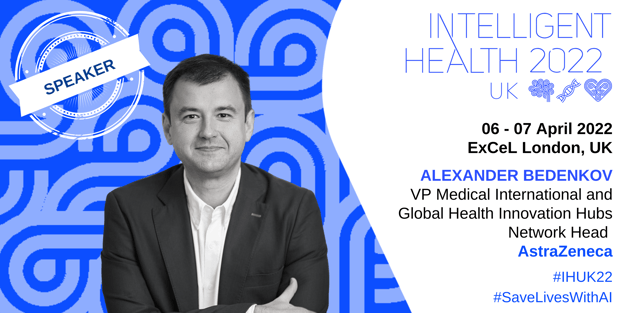 How do you think AI will make its biggest mark in healthcare in the next 5 years? 10 years? 20 years?
In the near future, I see a great potential for AI completely changing the screening and diagnostics journey. With this kind of technology, we can have affordable and accurate diagnostics of multiple diseases with a single test.
AI will also be key for building future care pathways that are centred around patient preferences, utilising innovative technology to shift care out of hospitals and make it more home-centred. In the future, I think industries will be rewarded by keeping patients healthier longer, shifting from a pill-to-cure culture to a platform-to-prevent culture.
If you could solve any global health problem in the world with AI, what would it be?
Ensuring equitable access to healthcare. Your health should not be determined by who you are, where you live or where you were born. Through collaboration with external partners, especially the ones with AI-based solutions, A.Catalyst Network aims to help drive sustainable, resilient, future-proof healthcare systems by creating innovative solutions that harness new technologies to support equitable access to affordable healthcare and strengthen local and national healthcare ecosystems.
Presuming that was solved, what would your second choice be?
Secure patient-centric, fully integrated healthcare solutions. A.Catalyst Network reflects and supports the ambition to improve patient experiences and outcomes by embracing opportunities for collaboration with a variety of stakeholders to increase our impact and helping to ensure continued access to care and medicines, while at the same time thinking holistically about the patient experience, redefining industry boundaries.
What excites you most about the application of AI in healthcare?
AI has transformed industries around the world and has an endless potential to radically alter the healthcare industry. Through AI we can enhance the capacity of the healthcare systems as we could not have dreamed of. Just imagine how much accuracy and cost-effectiveness AI-based careening solutions can bring to healthcare systems, as well as data outside the health system that contain valuable health information that now can be analysed. I'm positive AI will transform patient care and diagnoses in the not-very-distant future.
What's your biggest fear in relation to the application of AI in the health/medicine field?
My biggest fear is the possibility of losing this opportunity, not transforming the hype into reality, staying behind the changes the ecosystem is requesting and at the end becoming outdated for not evolving with the world.
How do you think AI will cause human contact in healthcare to change in the future?
AI will never replace physicians, nurses, scientists… in short, humans themselves. Healthcare is a business with a human touch. AI adds to what people can deliver, enhancing capabilities and leaving more time to the human approach of listening to and connecting with patients. What I believe is that people who don't embrace AI and all new technologies will be redundant in the future.
What does AI mean for the skill requirements of health professionals? How will it change?
AI and all cutting-edge technologies arrived to change behaviours in the healthcare industry. If you don't adapt, if you don't listen to your customers and co-create with them, you will become obsolete. Healthcare professionals need to be digital-savvy for sure, but more than that they need to be thought leaders in science and technology.
Which 2 people do you admire most in the world of AI in healthcare in terms of their work?
I don't see AI about isolated names or leaders. What I admire are the companies that are changing ideation, paradigms, the enterprises that are really changing the world. For me, Qure.ai and Gendius are amazing examples of AI-based companies that are partnering with multiple payers from the ecosystem, delivering crucial solutions with the potential to support the screening, detection, diagnosis and management of most deadly NCDs.
Why did you choose to present at Intelligent Health?
Intelligent Health is one of the most trustworthy platforms in the industry and is therefore a relevant event to connect, network and share learnings with industry peers.
What are your personal goals from the summit?
I'm keen to learn a lot from the other attendees and speakers, share experiences, listen to interesting cases and identify new partners for future endeavours with AstraZeneca and the A.Catalyst Network.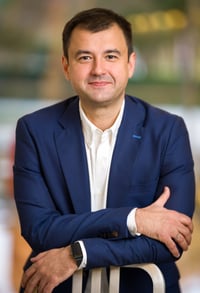 LinkedIn profile URL
As VP Medical International, Alexander has played a key role in the transformation of medical affairs to a new strategic partner role within the organisation, as well as launch of the Emerging Markets Health Innovation Hubs (EMHIH) initiative: integrated, open science ecosystems, operating in partnership with academia, entrepreneurs, industry, medical professionals, governmental partners and VCs. Following the success of the EMHIH initiative, in 2020 Alexander was appointed as Global Health Innovation Hubs (A.Catalyst) Network Head.
We look forward to welcoming him on stage! Join Alexander and the AI and healthcare community at Intelligent Health UK to break down the barriers between tech and healthcare and help #saveliveswithai.
The Intelligent Health team
About Intelligent Health UK
Now in its third year, Intelligent Health UK, in partnership with The NHS AI Lab, NIHR, The Health Innovation Network, AHSN Network, and DigitalHealth.London, will bring together our collective communities to the ExCeL London on the 6th and 7th April 2022.
The AI and healthcare community - clinicians, hospital heads, data scientists, startups, academics, and investors, will come together for two days of collaboration and co-creation, to address how AI can be used to alleviate the elective backlog, improve population health, increase operational efficiencies and drive forward moonshot projects as the NHS recovers from the COVID-19 pandemic.
---
AI and health events calendar for 2022
Intelligent Health UK | 06-07 April 2022 | London, UK
Intelligent Health | 07-08 September 2022 | Basel, Switzerland