Ahead of his workshop 'AI – Does your Trust need it? Here's how to get it right the first time' at Intelligent Health UK 2022 (6-7 April, ExCeL London), we asked Dr. Hugh Harvey, Managing Director, Hardian Health his thoughts on the future of AI in healthcare.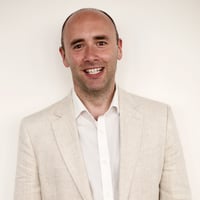 If you could solve any global health problem in the world with AI, what would it be?
OK, you're starting with a tough one first! The fundamental blocker to large-scale adoption of AI is lack of consistency and standardisation of medical data. For AI to work well, it needs consistent quality of inputs, and a frictionless data environment in which to operate. Right now vendors are having to build in complex work-arounds for data pipelines, both for data in as well as data out. Therefore I would propose that the biggest global health problem is not a clinical condition but a data problem. If we can overcome that and create better data frameworks and standards, then we can start to apply AI to individual problems far better.
Presuming that was solved, what would your second choice be?
So, leading on from solving the data problem, I would be keen to start looking at clinical problems ranked in terms of QALY impact - that is the cost-benefit in terms fo quality of life over a projected number of years - as well as prevalence. Let's start by selecting high impact diseases and conditions that are prevalent in society.
How do you think AI will make its biggest mark in healthcare in the next 5 years? 10 years? 20 years?
Anecdotally I have seen the biggest impacts in AI where these systems can do things that health care professionals can't do, rather than systems that attempt to replace part of what a clinician does. The reason for this is that the added value is greater if an AI system is going above and beyond current standards of care - and that's where the most innovative AI systems will leave the biggest mark.
What excites you most about the application of AI in healthcare?
I still get excited about automation of back-end tasks, even though this can often be seen as boring. Health systems are notoriously archaic and reliant on old technology stacks, so anything AI can do operationally to maximise efficiency and make these out-dated systems obsolete is extremely valuable. What's the saying..."Innovation means finding a business that still relies on fax machines, and replacing it".
What's your biggest fear in relation to the application of AI in the health/medicine field?
I have nightmares about unnecessary regulatory divergence across different jurisdictions. I'm a globalist, and believe fundamentally that everyone across the world should receive the same quality of care (and therefore the same quality of AI) - so why should regulations be any different? I am encouraged to see more and more harmonisation of global regulatory standards. For example, the FDA recently announcing that they would be changing their 21 CFR quality management criteria to be in line with the global ISO 13485 standard which everyone else uses is a great step forward.
How do you think AI will cause human contact in healthcare to change in the future?
There are two schools of thought on this - one is that AI will open up more care-giving time for health professionals by removing repetitive tasks, enabling more patient contact. I think perhaps the more realistic scenario is that, inevitably, an increase in AI outputs will lead to professionals spending more time pouring over data.
What does AI mean for the skill requirements of health professionals? How will it change?
Almost all health professionals will have to become better acquainted with IT at a minimum, and move away from paper notes to a data-driven computer environment. Those that want to be more deeply involved will need training in multiple facets of AI development and research, as well as quality control and audit of automated processes. The post-market monitoring of AI is going to require a huge effort on the part of front line practitioners.
Which 2 people do you admire most in the world of AI in healthcare in terms of their work?
Number 1 is my colleague Mike Pogose who leads Hardian's regulatory services - I honestly don't know anyone who has a more encyclopaedic knowledge of the software as a medical device regulations! He's like a walking dictionary!
The second is Dr Xiao Liu, ophthalmologist and AI researcher, who I've had the pleasure with working with on multiple projects, including her brilliant work in leading the CONSORT and SPIRIT AI guidelines work which was cross published in all major journals and provides a framework for the gold standard in designing and reporting prospective clinical trials involving AI. She has also been acting as an industry fellow with us at Hardian, providing invaluable insight to our clients.
Why did you choose to present at Intelligent Health?
I need to make up for nearly two years absence of face-to-face networking! If you see me there, come and say Hi!
Dr Harvey is an experienced clinician and health technology consultant. He is a board certified consultant radiologist and academic, trained in the NHS and Europe's leading cancer research center, the Institute of Cancer Research, where he was twice awarded ICR Science Writer of the Year.
He now serves as Managing Director at Hardian Health, a multi-disciplinary digital health technology consultancy, and holds an honorary research fellowship at the Institute of Cognitive Neurosciences at UCL.
We look forward to welcoming him on stage! Join Hugh and the AI and healthcare community at Intelligent Health UK to break down the barriers between tech and healthcare and help #saveliveswithai.
About Intelligent Health UK
Now in its third year, Intelligent Health UK, in partnership with The NHS AI Lab, NIHR, The Health Innovation Network, AHSN Network, and DigitalHealth.London, will bring together our collective communities to the ExCeL London on the 6th and 7th April 2022.
The AI and healthcare community - clinicians, hospital heads, data scientists, startups, academics, and investors, will come together for two days of collaboration and co-creation, to address how AI can be used to alleviate the elective backlog, improve population health, increase operational efficiencies and drive forward moonshot projects as the NHS recovers from the COVID-19 pandemic.
---
AI and health events calendar for 2022
Intelligent Health UK | 06-07 April 2022 | London, UK
Intelligent Health | 07-08 September 2022 | Basel, Switzerland