We spoke to Dr. Kourosh Saeb-Parsy is Chief Medical Officer at Oxford Immune Algorithmics Ltd. MD & PhD in Neurosciences (Cambridge).
Kourosh, what excites you most about the application of AI in healthcare?
The opportunity to democratise healthcare and make a global impact in alleviating disease and suffering
What's your biggest fear about the application of AI in health/medicine?
Failure to achieve full potential through a combination of application that are not validated, exploitation and unregulated use.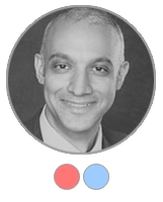 How do you think AI will make its biggest mark in healthcare in the next 5 years? 10 years? 20 years?

Enable assembling of large metadata sets to identify important biological signals.
How do you think AI will change human contact in healthcare?
Gathering, assembling and analysing of information.
What does AI mean for the skill requirements of health professionals? How will it change?:
Retraining, de-deployment and re-focus on new and more 'human' tasks.
Which 2 people do you admire most in the world of AI in terms of their work?

Babylon and DeepMind
Join the global AI and health community for
Intelligent Health 2020
(9-10 Sept 2020, Online) to help create a future with AI in healthcare #withoutborders and #SaveLivesWithAI
Find out more and book your tickets at intelligenthealth.ai
YOUR GLOBAL AI EVENTS CALENDAR

Here is your Global AI Events Calendar where you can meet your fellow 54,000 InspiredMinds community members of business leaders, heads of government, policy makers, startups, investors, academics and media.
INTELLIGENT HEALTH
9-10 September 2020
Online
INTELLIGENT HEALTH AI WEBINARS
WORLD SUMMIT AI WEBINARS
INSPIRED AI SERIES
Sept – Nov 2020
Online
inspired-minds.co.uk/inspired-ai
WORLD SUMMIT AI @ INSPIRED AI
14 October 2020
Online
WORLD AI WEEK
12-16 October 2020
Amsterdam, Netherlands
INTELLIGENT HEALTH UK
3-4 March 2021
London, UK
WORLD SUMMIT AI AMERICAS
20-21 April 2021
Montreal, Canada