We spoke to Dr. João Pedro Colaço, Intensive Care and Internal Medicine Consultant at Hospital da Luz, who will be presenting a practical, real world AI use case at Intelligent Health UK 2022 (6-7 April, ExCeL London).
João's interest in the use of digital tools has led to improvements and the upgrading of available tools in all of the hospitals he has worked for and to create new tools and solutions like the one being presented. His passion and some proficiency in coding has also led him to create his own app, listed in the App Store under the name 'Remarkable Edge'.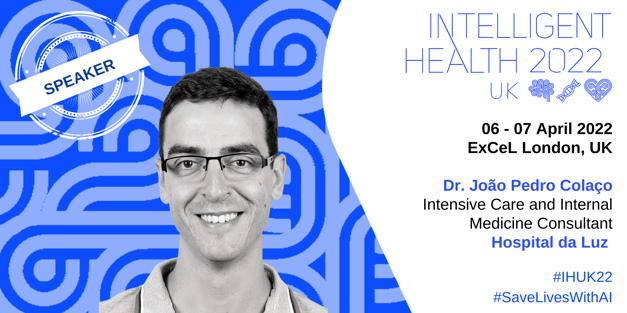 If you could solve any global health problem in the world with AI, what would it be??
Preventive Medicine helping people avoiding personal health mistakes.
How do you think AI will make its biggest mark in healthcare in the next 5 years? 10 years? 20 years?
5 years - streamline some areas of medical management of the patient offering tips and alarms for some situations in various settings (wards, emergency department, radiology, GP).
10 years - more of the 5 year plus general adoption of AI personal health advisors in mobile devices and wearables.
20 years - using the experience of developing consumer AI health software there will be a good number of AI software used in the GP practice and hospitals to streamline the work done there. The proprietary nature of the software, plus its appeal, will make the EMR being consolidated in a very small number of companies.
What excites you most about the application of AI in healthcare?
Reducing medical error and improve response time in acute care (I'm a Critical Care doctor so his were my interests are).
What's your biggest fear in relation to the application of AI in the health/medicine field?
Discrimination. Its very easy to design this software to only work well in some individuals discriminating others, reducing their access to healthcare. Race and gender come to mind, but other factors comes to mind like language.
I'm Portuguese so I should know. This type of software is developed, at great cost, using english language. Porting to other languages will be slow, difficult and more costly reducing its access to other countries/languages.
How do you think AI will cause human contact in healthcare to change in the future?
It will reduce the contact in some settings, but it will always be present and more meaningful.
What does AI mean for the skill requirements of health professionals? How will it change?
The health professional should now how AI works and how was developed akin to how they know how drugs and devices works, are developed and regulated. We should know our tools.
Which 2 people do you admire most in the world of AI in healthcare in terms of their work?
Leo Anthony Celi, Alvin Rajkomar
Why did you choose to present at Intelligent Health?
Interested audience in our work.
What are your personal goals from the summit?
Network with other like minded people. Help drive the industry (even if a little bit)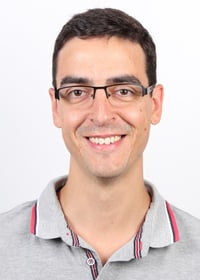 Twitter username
LinkedIn profile URL
Join João and the AI and healthcare community at Intelligent Health UK to break down the barriers between tech and healthcare and help #saveliveswithai.

The Intelligent Health team
About Intelligent Health UK
Now in its third year, Intelligent Health UK, in partnership with The NHS AI Lab, NIHR, The Health Innovation Network, AHSN Network, and DigitalHealth.London, will bring together our collective communities to the ExCeL London on the 6th and 7th April 2022.
The AI and healthcare community - clinicians, hospital heads, data scientists, startups, academics, and investors, will come together for two days of collaboration and co-creation, to address how AI can be used to alleviate the elective backlog, improve population health, increase operational efficiencies and drive forward moonshot projects as the NHS recovers from the COVID-19 pandemic.
The Intelligent Health team
---
AI and health events calendar for 2022
Intelligent Health UK | 06-07 April 2022 | London, UK
Intelligent Health | 07-08 September 2022 | Basel, Switzerland