Ahead of Intelligent Health UK (24-25 May 2023, ExCeL London), we asked Sigal Hachlili Dwyer, Director of AI, Data & Digital Innovation at Guy's and St Thomas'​ NHS Foundation Trust, her thoughts on the future of AI in healthcare.
If you could solve any global problem in the world with AI, what would it be and why?
Climate change, environmental sustainability. For example: – I would use AI to help map areas of pollution, predict where wildlife and nature might be at risk and measure interventions that can make a positive impact.
What do you think are the 3 most important ways in which AI can be used for the benefit of humanity at the moment?
AI in healthcare is used in lots of different ways currently: in predicting disease early, speeding up diagnosis (cancer) and making recommendations for personalise therapies.
AI is already used to help the NHS to increase efficiency, improve therapies, drive safety, and reduce costs all of which benefit patients, clinical staff, and the wider society.
Other ways that AI can be used is to measure and predict environmental conditions that affect society and health – such as air and water pollution.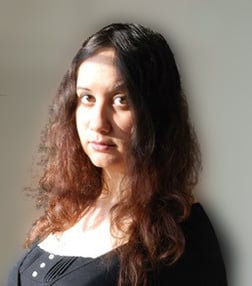 What changes would you like to see in healthcare?
Currently, there are many 'concepts' being tested in AI, these sometimes take a while to make it into clinical practice and workflows.
I think this process will get better and slicker – in radiology & medical imaging there are already a lot of interventions that have been through FDA, and MHRA approval to work within a clinical setting.
Some of the Machine Learning for Electronic Health Records is also proving valuable for large cohorts of patients, population health, and research.
We would need to invest in the next generation of clinical and medical professionals that are trained on data science and AI, and some of these as hybrid roles that combine medical with data science.
A programme for clinical fellows in AI is currently running in the UK - funded by Health Education England and run by the AI Centre for Value Based Healthcare.
What one piece of advice would you give to young women looking for a career in healthcare?
There are many amazing and rewarding careers in healthcare, that span a large variety of skills- whether it's caring for people or using technology.
Have a look at NHS England and Health Education England websites to see what sort of careers and apprenticeships are available.
I highly recommend it as a great opportunity to enjoy your job while knowing that you are ultimately helping people.
We cannot wait to see Sigal at Intelligent Health UK on 24th-25th May in London!

The Intelligent Health team
Global AI and health events calendar 2023





Intelligent Health UK




24-25 May 2023




Platinum Suite, ExCeL London, UK
Intelligent Health
13-14 September 2023
Basel, Switzerland



Share your content with the Intelligent Health community



Got some interesting content you want to share with our community of over 220,000 AI and health Brains? You can send us anything from a published piece you have written online, white paper, article or interview. Submit it here