We spoke to Vincent Keunen, Founder of Andaman7, ahead of his presentation at Intelligent Health (9-10 September 2020, Online), the world's largest online summit dedicated to AI in medicine.
Vincent, what excites you most about the application of AI in healthcare?
AI can - simply said - reduce costs and augment quality of medical care and research..
What's your biggest fear about the application of AI in health/medicine?
My greatest fear... is the fear of people. AI is just a tool. A powerful one, yes. But just a tool.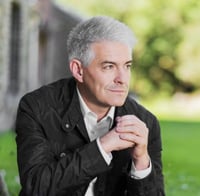 How do you think AI will make its biggest mark in healthcare in the next 5 years? 10 years? 20 years?

It will automate all the easy tasks, allowing doctors to focus on the more specialized and advanced cases. I also hope it will motivate doctors to go back to more human interactions.
How do you think AI will change human contact in healthcare?
AI should automate the mundane tasks allowing doctors to connect better with patients.
What does AI mean for the skill requirements of health professionals? How will it change?:
Skills of health professionals will need to evolve, like skills of engineers have evolved with the calculator... They will need to use advanced tools and focus on the human connection.
Join Vincent and the global AI and health community for
Intelligent Health 2020
(9-10 Sept 2020, Online) to help create a future with AI in healthcare #withoutborders and #SaveLivesWithAI
Find out more and book your tickets at intelligenthealth.ai
YOUR GLOBAL AI EVENTS CALENDAR

Here is your Global AI Events Calendar where you can meet your fellow 54,000 InspiredMinds community members of business leaders, heads of government, policy makers, startups, investors, academics and media.
INTELLIGENT HEALTH
9-10 September 2020
Online
INTELLIGENT HEALTH AI WEBINARS
WORLD SUMMIT AI WEBINARS
INSPIRED AI SERIES
Sept – Nov 2020
Online
inspired-minds.co.uk/inspired-ai
WORLD SUMMIT AI @ INSPIRED AI
14 October 2020
Online
WORLD AI WEEK
12-16 October 2020
Amsterdam, Netherlands
INTELLIGENT HEALTH UK
3-4 March 2021
London, UK
WORLD SUMMIT AI AMERICAS
20-21 April 2021
Montreal, Canada