We sat with Benjamin von Deschwanden, Co-Founder and CPO at Acodis AG, to ask him his thoughts on the future of AI in healthcare.
Do you think the increased usage of Generative AI and LLMs will have a dramatic impact on the healthcare industry and, if so, how?
I think that the strength of Generative AI lies in making huge amounts of information accessible without needing to manually sift through the source material. Being able to quickly answer any questions is going to be transformative for everyone working with increasingly bigger data sets.
The challenge will be to ensure that the information we get by means of Generative AI is correct and complete – especially in healthcare – as the consequences of wrong data can be fatal.

We at Acodis are actively working on practical applications of Generative AI inside our Intelligent Document Processing (IDP) Platform for Life Science and Pharma clients to drive efficiency and accelerate time to market, whilst controlling the risks.
If you could solve any global health problem in the world with AI, what would it be?
AI plays a critical role in supporting data experts to focus on cognitively demanding tasks, increasing their efficiency and speeding up time-to-market for newly developed products. With industry-wide usage of structured data formats to exchange information, AI can also help to simplify collaboration between all players in the industry. This ultimately means that patients receive treatment faster.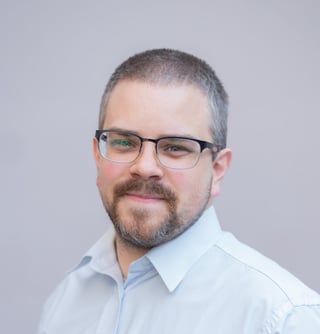 What do you think will be the biggest impact of AI and tech in the healthcare sector in the next 5 years?
Structured data is a key driver for Innovation in Life Sciences. Machine-readable data – instead of countless PDF and Word documents – are necessary to accelerate business process automation, business analytics, and innovation initiatives. Working with our clients in Pharma companies, we see the significant impact of automating data extraction processes and I think the importance of having quick and complete access to all the information trapped inside documents will only grow in the near future.
About Benjamin von Deschwanden
Benjamin von Deschwanden is driven by the belief that cutting-edge Document AI technologies have the potential to revolutionize how businesses handle information, streamline workflows, and enhance decision-making processes.
With a background in Computer Science and as a Teaching Assistant at ETH Zurich, Benjamin co-founded Acodis back in 2016 with the mission to turn any document into value.
In his current role as Chief Product Officer, he is spearheading the development of groundbreaking products that redefine the way we interact with documents, transforming the future of document processing as we know it. As such, three out of the top ten pharma and health companies worldwide are relying on the Acodis platform to structure and extract data from documents.
Global AI events calendar
World Summit AI
World Summit AI Americas
24-25 April 2024
Montréal, Canada
Share your content with the Intelligent Health community

Got some interesting content you want to share with our community of AI and health Brains? You can send us anything from a published piece you have written online, white paper, article or interview. Submit it here