Ahead of Intelligent Health (13-14 September 2023, Basel, Switzerland), we asked Nicole Spieker, Chief Executive Officer, PharmAccess, her thoughts on the future of AI in healthcare.
Do you think the increased usage of Generative AI and LLMs will have a dramatic impact on the healthcare industry and, if so, how?
Everywhere in the world we are reaching the limitations of our healthcare systems. In parts of the world that have performed relatively well the impact of an aging population is threatening sustainability, in low-income countries inclusive healthcare will be unattainable with rising needs as result of climate change. The only way to solve this, is to use transformative approaches that allows us to place the patient at the center. AI is transforming how we interact with each other at all levels, it is now the time where it will completely transform healthcare.
If you could solve any global health problem in the world with AI, what would it be?
I would like to get more people in Sub Saharan Africa connected to better healthcare. Access to care in low-income countries is still very poor, and lacks inclusivity, and yet almost 90% of people are connected via mobile phones.
AI can help connect people at very low costs, bring better triaging and referral mechanism and opens the opportunity for community-based care. We are strong advocates that the real opportunity to leapfrog is for those who need better health outcomes the most.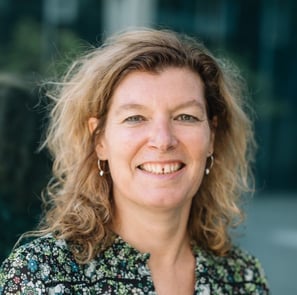 What do you think will be the biggest impact of AI and tech in the healthcare sector in the next 5 years?
AI and tech will never replace doctors and healthcare professionals, but it will enable to use their capacity where we need it most. With AI giving supportive diagnostics, smarter triaging, screening for rare adverse events and flagging of potential medication errors, it will help impact an overburdened healthcare system and make it future proof. The data coming from this dramatic increase of connectivity needs to be organized as a public good, so as a society we can ensure that our health systems are future ready.
This is the part we need to figure out, transformation in healthcare has not happened, and this is not because we do not have the technology, but it is because we do not know how to use technology for social good.
What's your biggest fear around the application of AI/tech in the healthcare field?
My biggest fear is that we do not use it for inclusive healthcare. Tech will always be implemented by tech companies (the private sector), but healthcare is what we do collectively. My biggest fear is that we have a future where Healthtech only serves those who can afford it, and not include the vulnerable and the poor.
What two people do you admire most in the world of healthcare?
Our founder (the late) Professor Joep Lange because he challenged the notion that exclusion from healthcare was a result of being poor and demonstrated that you could make healthcare inclusive. And our chair of the board Professor Khama Rogo, with his famous saying that 'inequity kills'
we have the opportunity now to demonstrative that equity saves lives.
About Nicole Spieker
Nicole Spieker is a healthcare professional with 17 years on the ground experience in Africa. A scientist by training, she has focused her career on developing and scaling innovative models for change that drive inclusive quality healthcare, especially for vulnerable groups.
She is the CEO of PharmAccess, an international not-for-profit organization dedicated to strengthening health systems in sub-Saharan Africa. PharmAccess' mission is to create access to affordable, quality healthcare for low-income groups. This is achieved through the introduction of standards, the creation of health insurance systems, and provision of affordable loans to private clinics. Mobile and digital technology are considered key transformational elements in achieving UHC. At the core is the M-TIBA mobile health wallet, which connects patients, payers and providers. M-TIBA creates new digital solidarity mechanisms where people start paying for each other, and efficiently channels funding to target groups at very low transaction costs.
Dr Spieker is also the founder of SafeCare, an internationally accredited (ISQua) standards-based methodology that healthcare facilities use to improve their quality-of-care. SafeCare has been adopted by public and private partners in over 15 African countries.
Previously, Dr Spieker was Director of clinical support services at the Aga Khan Health Services, Dar es Salaam, Tanzania and assistant professor at Aga Khan University. She holds a PhD in Molecular Genetics of the University of Amsterdam, The Netherlands.
Global AI events calendar
World Summit AI
World Summit AI Americas
24-25 April 2024
Montréal, Canada
Share your content with the Intelligent Health community

Got some interesting content you want to share with our community of AI and health Brains? You can send us anything from a published piece you have written online, white paper, article or interview. Submit it here