Ahead of Intelligent Health (13-14 September 2023, Basel, Switzerland), we asked Yurii Kryvoborodov, Head of AI & Data Consulting, Unicsoft, his thoughts on the future of AI in healthcare.
Do you think the increased usage of Generative AI and LLMs will have a dramatic impact on the healthcare industry and, if so, how?
Generative AI is just a part of the disruptive impact of all AI tech on the healthcare industry. It allows to dramatically reduce time efforts, costs and chances of mistakes. Generative AI and LLMs are applied to automating clinical documentation, drug discovery, tailoring of treatment plans to individual patients, real-time clinical decision support and health monitoring, extracting valuable insights from unstructured clinical records, streamlining administrative tasks like billing and claims processing, providing instant access to comprehensive medical knowledge. And this list continues.
If you could solve any global health problem in the world with AI, what would it be?
Education. In most cases it's easier to prevent a disease than to treat it. And I think medical sensors, real-time health monitoring and intelligent conversation algorithms will play the key role in educating people about their own health and recommending measures to maintain good health condition.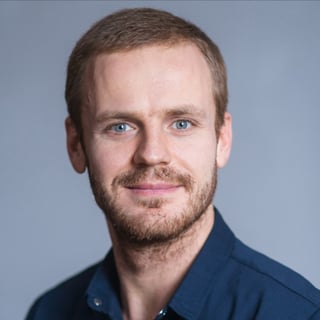 What do you think will be the biggest impact of AI and tech in the healthcare sector in the next 5 years?
In my opinion the greatest impact of AI can be expected in clinical workflow automation that will allow to reduce the load on medical staff by taking over tasks that can be done by AI and free up time for tasks that require human control.
What's your biggest fear around the application of AI/tech in the healthcare field?
Hallucinations. Generative AI and LLMs are able to generate incorrect information. People will increasingly use AI-based services as a virtual doctor, following its recommendations, which may not be correct. At the same time, unlike a human doctor, AI is not responsible for the diagnosis and recommendations it gives.
What two people do you admire most in the world of healthcare?
Andrew Ng and Yoshua Bengio
About Yurii Kryvoborodov
Yurii Kryvoborodov is an experienced Product Manager with a remarkable background in delivering and growing products through their entire life cycle. With over 10 years of experience, Yurii is known for his result-oriented, data-driven, and proactive approach to management. He is a SAFe certified product manager, equipped with exceptional multi-cultural communication skills, enabling him to effectively manage diverse projects with clients from the US, EU, UK, Israel, China, and Latin America.
Currently serving as the Head of Technology Consulting at Unicsoft, a Global Software Solutions Vendor, Yurii is playing a key role in defining the product vision and strategy, developing the business model, and designing technical architecture for businesses around the globe. In addition to AI for the healthcare industry, his main areas of expertise are fintech and blockchain.
Yurii has an impressive track record of improving business profitability, implementing modern delivery methodologies, ML models, and optimizing operational pipelines. He has successfully launched high-load platforms in various business domains, increased product conversions, and integrated third-party systems to improve customer retention.
Yurii holds a Master's degree in Finance and Banking and a Master's degree in Jurisprudence. He has a wide range of certifications, including Stanford Machine Learning Certificate, SAFe Product Owner/Product Manager, QAI Certified Software Business Analyst, and Agile Certified Professional, among others."

Global AI events calendar
World Summit AI
World Summit AI Americas
24-25 April 2024
Montréal, Canada
Share your content with the Intelligent Health community

Got some interesting content you want to share with our community of AI and health Brains? You can send us anything from a published piece you have written online, white paper, article or interview. Submit it here