Join the Executive Advisor to Google and Former President & CEO of Cleveland Clinic, Head of Global Health and Member of the Executive Committee at the World Economic Forum, the Managing Director of EMEA at IBM Watson Health and Group Head of Global Health at Novartis at the only large-scale, global summit focused purely on AI in healthcare.
These are just 4 of 35 out of this world speakers already joining us at Intelligent Health this September.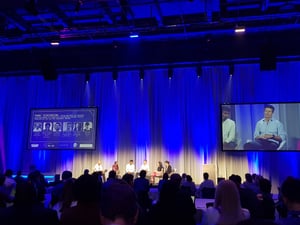 You told us what you want - We listened

You said you wanted to hear more practical, real-world AI use cases in healthcare. More technical talks on fundamental breakthroughs using AI which will change lives and reshape healthcare. You need to hear from the CEOs and the Founders of the most disruptive AI health tech companies of tomorrow. So, we listened and we've created an unrivalled programme featuring 5 tracks of content for you.
Come and hear first-hand how these visionaries are collectively using AI to improve the health of humanity. And after they step off one of our 5 stages, you can join many of them at the Q&A stage to pick their brains further.
Meet the first 35 speakers
Dr. Toby Cosgrove, Executive Advisor, Google and Executive Advisor and Former President & CEO, Cleveland Clinic
Vanessa Candeias, Head, Global Health and Healthcare and Member of the Executive Committee, World Economic Forum
Dr. Heather Berlin, Neuroscientist & Assistant Professor of Psychiatry, Icahn School of Medicine at Mount Sinai
Jennifer Esposito, Vice President – Health, Magic Leap
Mark O'Herlihy, Managing Director EMEA, IBM Watson Health
Dr. Alain Dagher, Neurologist and Professor, Montreal Neurological Institute, McGill University
Dr. Ann Aerts, Head, Novartis Foundation
Roland Rott, Global General Manager of Women´s Health Ultrasound, GE Healthcare
Prof Alexander Navarini, Head of the Department of Clinical Medicine, University of Basel
Prof P Schmid-Grendelmeier, Head Allergy Unit, Dept. Of Dermatology, University Hospital Zürich
Dr. Patrice Matchaba, Group Head of Global Health and Corporate Responsibility, Novartis
Dr. Alexandra Greenhill, Founder, CEO and Chief Medical Officer, Careteam Technologies
Dr. Natalie Banner, Understanding Patient Data Lead, Wellcome Trust
Dr. Bart Geerts, Consultant Cardiac Anaesthetist, AMC & Founder, Healthplus.ai
Alexander Finlayson, GP and Co-Founder, Nye, and Doll Fellow, Oxford University
Naomi Lee, Executive Editor – Digital, The Lancet
Dr. Liam Caffery, Telehealth Technology Director, University of Queensland
Sarah Porter, Founder and CEO, Inspired Minds
Babita Sharma, Television Presenter, BBC
Stefan Germann, CEO, Fondation Botnar
Christopher Rudolf, Founder and CEO, Volv Global
Dr. Adrian Attard Trevisan, Co-Founder and CEO, Umana Medical Technologies
Dr. Baher Al Hakim, CEO, Medicus
Dr. Fred Jordan, CEO, AlpVision
Frédéric Dayan, CEO, ExactCure
Jaquie Finn, Global Head of Digital Health, Cambridge Consultants
Vimal Narayanan, Founder and CEO, Medtrix
Maxine Mackintosh, Co-Founder, One HealthTech
Moses Braimah, Nasopharyngeal Cancer Survivor and CEO, Pacific Messages
Dr. Marcin Pietrzyk, CEO, Unit8
Erik de Heus, CEO, SkinVision
Dr. Christophe Hsu, Consultant in Teledermatology and AI, University Hospital of Basel
Chris Gibson, Co-Founder and CEO, Recursion Pharma
Bjoern von Siemens, Co-Founder, Caresyntax
Dennis Kogan, Co-Founder, Caresyntax
The programme will be released next week! To celebrate we are offering tickets at half price. Book your ticket
Join the global AI healthcare community at Intelligent Health this September.
Any questions? We're here to help! Get in touch
Intelligent Health AI
11th-12th September 2019
Basel Congress Center, Switzerland