Who left us shook? Who blew our as-yet-unblown minds? Here is the Intelligent Health community's top 50 Innovators of 2020!
Dr. Robert Califf, Former Commissioner FDA and Head of Health and Policy, Alphabet (Google Health and Verily Life Sciences)

John Nosta, President, NostaLab
Yan Huang, General Manager - Intelligent Healthcare, Baidu

Dr. Ann Aerts, Head, Novartis Foundation

Dr. Greg Moore, Corporate Vice President, Microsoft Health

Dr. Freddy Abnousi, Interventional Cardiologist and Head of Health Technology, Facebook

Wenjun Xie, Head of AI Healthcare Strategy, Tencent

Dr. Stefan Germann, CEO, Fondation Botnar

Elena Bonfiglioli, Managing Director, Health and Life Sciences EMEA, Microsoft

Huguette Diakabana, Co-Founder and Deputy Director, African Alliance of Digital Health Networks



Junaid Bajwa, Chief Medical Scientist, Microsoft Research

Dr. Eric Oermann, Director, AISINAI, Instructor of Neurological Surgery, Department of Neurosurgery, Mount Sinai Health System

Dr. Divya Chander, Faculty Chair in Neuroscience and & Faculty in Medicine, Singularity University

Dr. Natalie Banner, Understanding Patient Data Lead, Wellcome Trust

Dr. Sonny Kohli, Internal Med/Critical Care Physician, Oakville Hospital, Assistant Prof (adj.), McMaster University and Co-Founder, Cloud DX

Letizia Gionfrida, CEO & Managing Director, Arthronica

Dr. James Kinross, Senior Lecturer and Consultant in Colorectal Surgery, St. Mary's Hospital, Imperial College London

Dr. Sandip Sarkar, Consultant Vascular and Endovascular Surgeon, Barts Health NHS Trust
Dr. Jay Mandrekar, Professor of Biostatistics & Neurology, Mayo Clinic
Dr. Gabriel Krummenacher, Team Lead Data Science, Zuehlke Group
Tomas Dikk, Lead Data Science, Zuehlke Group
Dr. John Halamka, President, Mayo Clinic Platform
Dr. Chris Bates, Director of Research and Analytics, TPP
Lucy Setian, Digital and AI Stakeholder Engagement Lead, Novartis Foundation
Guy Holmes, President and CEO, Tape Ark
Mark Saroufim, AI Engineer, Graphcore
Professor Max Welling, Vice President Technologies, Qualcomm & Research Chair, Machine Learning, University of Amsterdam
Professor Mildred Solomon, President & Professor, The Hastings Centre & Harvard Medical School
Tim Whittlestone, Chief Medical Officer, NHS Nightingale Hospital - Bristol
Srinivasan Venkatramanan, Research Scientist, Network Systems Science and Advanced Computing, Biocomplexity Institute, University of Virginia
Dr. Matthew Lungren, Co-Director, Center for Artificial Intelligence in Medicine and Imaging & Assistant Professor of Radiology, Stanford University School of Medicine
Dr. Frnanda Zaganelli, Ophthalmologist & Occupational Health Physician, Firjan
Dr. Kourosh Saeb-Parsy, Chief Medical Officer, Oxford Immune Algorithmics
Laurent Vandebrouck, CEO, Chronolife
Matthew Stickland, Director of Strategy & Communications, TPP
Dr. Amrita Kumar, Consultant Radiologist & AI Clinical Lead, Frimley Health NHS Foundation Trust
Milo Wicinski, Business Development Manager, Infermedica
Dr. Darko Matovski, CEO, causaLens
Dr. Peter Lee, Corporate Vice President, Microsoft Research
Gidon Lichfield, Editor in Chief, MIT Technology Review
Dr. Shahram Ebadollahi, Global Head of Data Science and AI, Novartis
Vanessa Candeias, Former Head, Global Health and Healthcare; Member of the Executive Committee, World Economic Forum
Dr. Sujeeth Bharadwaj, Principal ML Lead, Azure AI, Microsoft
Frank Hester, Founder and CEO, The Phoenix Partnership
Tara Donnelly, CDIO, NHSX
Dr. Alan Karthikesalingam, Senior Clinical Scientist, Google Health
Prof. Dr. Mathias Goyen, Chief Medical Officer – Europe, GE Healthcare
Dr. Stephanie Kuku, Senior Research Fellow, University College Hospital London
Dr. Allison Gardner, Programme Director Data Science Degree Apprenticeship and Co-Founder, Keele University and Women Leading in AI
Victoria Rege, Director of Strategic Alliances & Partnerships, Graphcore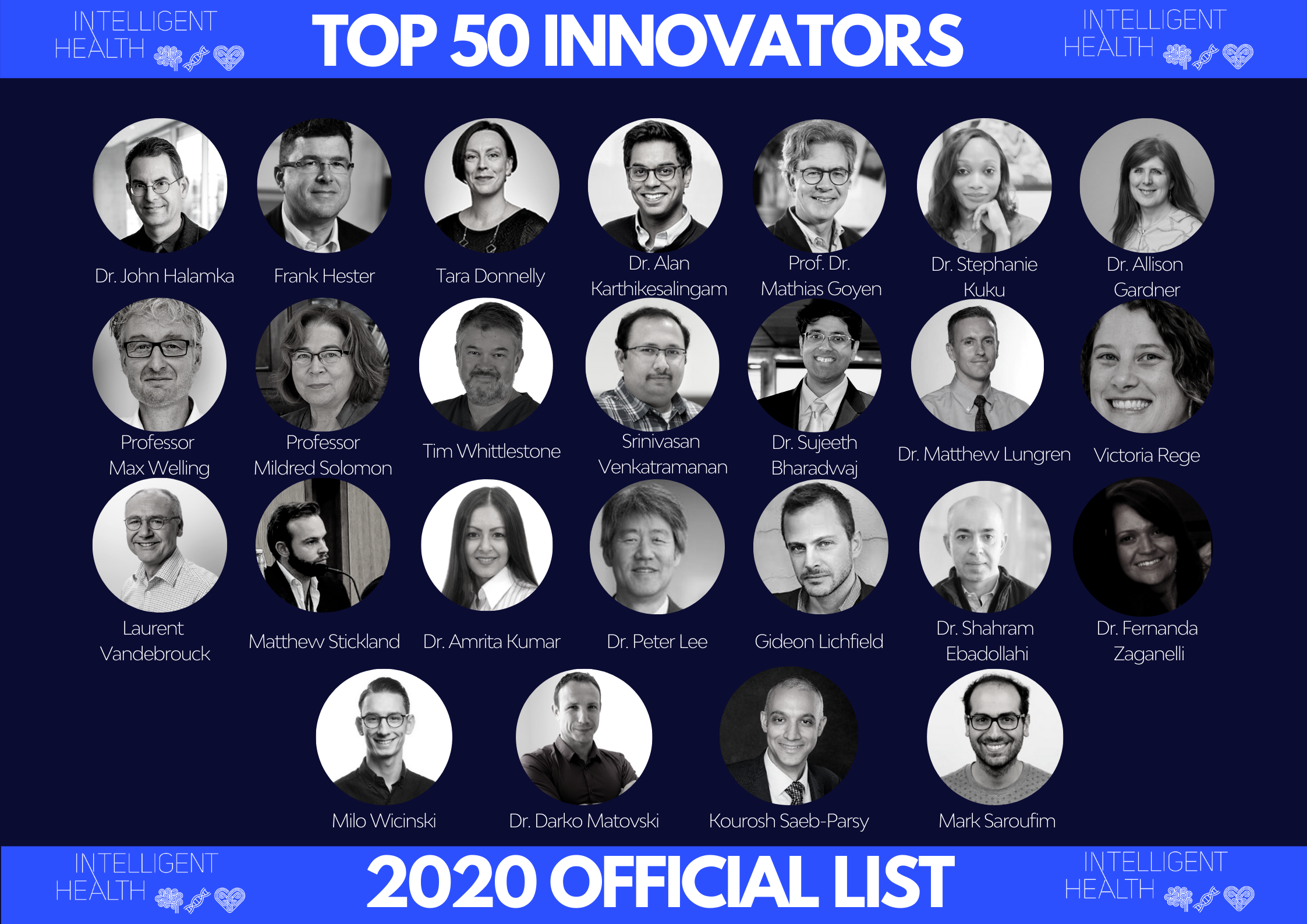 Who is your top pick? Tweet us @IntHealthAI #IHTop50
Here is your global calendar of online and physical for 2021 where you can meet your fellow Intelligent Health community members (and the top innovators!).
Intelligent Health UK 11 - 12 May 2021 | London & Online
Intelligent Health 8 - 9 September 2021 | Basel & Online
Physical tickets for 2021 will be extremely limited and released in small batches to ensure the safety of our guests. (Safety, first. Always.)