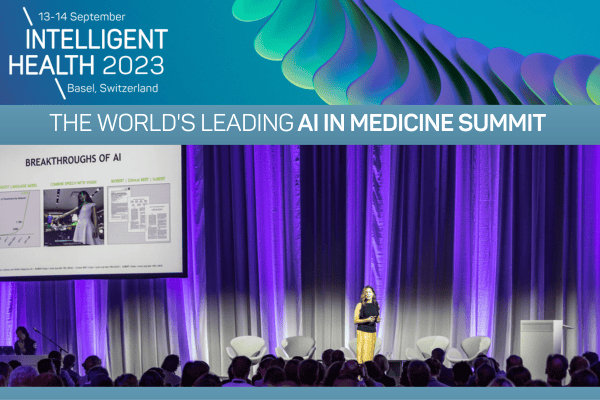 'While almost 80% of the broad healthcare workforce is women, only 19% of hospitals are led by women, and only 4% of healthcare companies have a female CEO''
WE@Healthtech
Here, at Intelligent Health, we believe that AI should be used to create a path for business, society, health and economy that is responsible and equitable and most importantly, we build this path with our multi-disciplinary community...that's YOU!
So, today, we're celebrating some of our fabulous female Headliners who will be taking to the stage at Intelligent Health, 13-14th September, Basel, Switzerland, all globally recognised leaders in their field of Healthcare.
>> headliner
AI is changing healthcare as we know it. It is augmenting our abilities, and with new training paradigms, platforms and computing methods, it will revolutionize healthcare delivery, and get us to the holy grail, precision medicine.
Mona Flores, Global Head of Medical AI, Nvidia brings a unique perspective with her varied experience in clinical medicine, medical applications, and business. She will be looking at new advances in AI in Healthcare, including generative AI and Large Language Models, and sharing her thoughts on how the future health landscape will change.
>> headliner
Dr Zenobia Brown is Associate CMO, Medical Director, Northwell Health Solutions Population Health Management, Northwell Health and her work includes the use of large data sets, technological integrations, novel technology deployment, and operational innovations to achieve meaningful clinical outcomes at scale.
She will be looking at addressing the global crisis of healthcare inequities through the lens of technological, financial, and clinical intersectionality. Exploring both sides of the healthcare equation, where more care or more expensive care paradoxically diminishes meaningful clinical outcomes and the lack of good care or access to care causes unnecessary human suffering, her talk will focus on an approach to achieving balance across these use cases.
>> headliner
Dr Aisha Rahim, Medical Executive and Director, Johns Hopkins HealthCare, is highly skilled in medical advisory, scientific strategy, and patient safety with a strong track record of developing clinical quality improvement processes, providing pharmaceutical solutions, and enhancing patient outcomes.
She will be providing us with an enlightening presentation that delves into how Hopkins, a renowned healthcare institution, is revolutionizing patient care through AI-powered digital retinal imaging. Aisha will reveal how they tackle bias challenges head-on, ensuring equitable and unbiased healthcare for all and examine how the implementation of generative AI will transform the future of medical diagnosis and treatment.
Join them and the rest of our illustrious speaker line-up to discover the true extent to which AI and tech can transform healthcare.
/in case you missed it...
Catch up with all the latest event news in the Intelligent Health News Hub:
>> Embracing AI in Healthcare: Shaping the future together
>> Putting Health Equity in the Spotlight
>> What's new at Intelligent Health 2023