We spoke to Srinivasan Venkatramanan, Research Scientist - NSSAC Division at the Biocomplexity Institute & Initiative, University of Virginia. Srini gave us his thoughts on AI in medicine ahead of his presentation (Computational modeling and data strategies for predicting and responding to pandemics) at Intelligent Health Inspired (25 – 27 May 2020), the world's largest online summit dedicated to AI in medicine.

Q: What excites you most about the application of AI in healthcare?
We have seen healthcare transform into a data-intensive discipline over the past decade with the increased use of EHRs, wearable sensors, etc. I am excited to see the synergy of domain knowledge and machine intelligence in improving overall human health.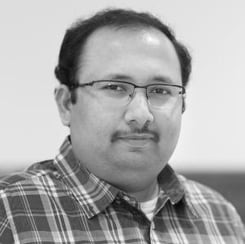 Q: What's your biggest fear about the application of AI in health/medicine?
While technological advances at the frontier are exciting and necessary, we should ensure AI does not amplify the demographic disparities in current healthcare. This involves getting the questions, data, techniques and real-world translation right.

Q: How do you think AI will make its biggest mark in healthcare in the next 5 years? 10 years? 20 years?
I believe AI will nudge us closer to an era of predictive, pervasive and personalized medicine. The tools we develop will span biological, societal and environmental domains, as well as individual, clinical and public health scales, to integrate the various factors affecting human health.
Q: How do you think AI will change human contact in healthcare?
Done right, I believe AI will enhance and not replace a physician to provide healthcare.
It is equally important for the technologist and the physician to prioritise empathy over efficiency.
Q: What does AI mean for the skill requirements of health professionals? How will it change?
I believe we are already seeing increased data proficiency among healthcare professionals. The next step would be to improve model understanding, especially in the choice of models and interpreting their results. There needs to be a healthy exchange between AI and health professionals and a development of a common vocabulary.
Q: Which 2 people do you admire most in the world of AI?
There are so many researchers across academia and industry who are at the forefront of AI in healthcare. Two of them whose work I admire are Prof. John Brownstein (Chief Innovation Officer, Boston Children's) and Dr. Jianying Hu (Director of Center for Computational Health, IBM Research). Prof. Brownstein has made significant contributions in the areas of digital disease surveillance and healthcare delivery. Dr. Hu has helped advance the state-of-the-art in predictive analytics and disease progression modelling.
Srini Venkatramanan will speak at Intelligent Health Inspired (25 – 27 May 2020), the world's largest online summit dedicated to AI in medicine. Join Srini and the global AI and healthcare community to create a future where AI will revolutionize health and #saveliveswithai
---
GLOBAL AI EVENTS CALENDAR

Here is your Global AI Events Calendar where you can meet the Inspired Minds community of business leaders, heads of government, policy makers, startups, investors, academics and media.
NEW! INTELLIGENT HEALTH AI WEBINARS
NEW! INTELLIGENT HEALTH INSPIRED!
25-27 May 2020
Online
london.intelligenthealth.ai/inspired
INTELLIGENT HEALTH
09-10 September 2020
Basel, Switzerland
NEW! WORLD SUMMIT AI WEBINARS
WORLD SUMMIT AI
13-14 October 2020
Amsterdam, Netherlands
WORLD AI WEEK
12-16 October 2020
Amsterdam, Netherlands
INTELLIGENT HEALTH UK
2-3 February 2021
London, UK
WORLD SUMMIT AI AMERICAS
20-21 April 2021
Montreal, Canada