We spoke to Sujeeth Bharadwaj, AI Research Lead/Principal Engineer at Microsoft. Sujeeth gave us his thoughts on AI in medicine ahead of his presentation (Use Case 1 – Training CXR classification models an order-of-magnitude faster using IPUs on Microsoft Azure) at Intelligent Health Inspired (25 – 27 May 2020), the world's largest online summit dedicated to AI in medicine.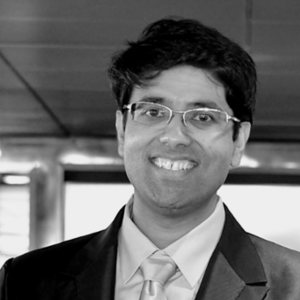 Q: What excites you most about the application of AI in healthcare?
As a machine learning scientist, it's always exciting to develop cutting edge algorithms that achieve unprecedented results; this is true across all applications, from finance to healthcare. What distinguishes the latter, however, is direct impact. A 1% improvement in accuracy translates to possibly saving an extra life - so nothing can be more gratifying than healthcare.
Q: What's your biggest fear about the application of AI in health/medicine?
Misrepresentation and misinterpretation of results. The "deep learning race" induces noisy claims, making it difficult to distinguish fact from fiction; this often leads to anxiety among healthcare practitioners and deters adoption of promising new technologies. It is essential for key stakeholders to shun the hype and stick to purely scientific methods.
Q: How do you think AI will make its biggest mark in healthcare in the next 5 years? 10 years? 20 years?
Unlike other domains, AI in healthcare is not about automation, but about augmenting the clinical workflow. I strongly believe that AI will enhance the standard of care with high-precision assistive tools such as segmentation and surgical planning.

Q: How do you think AI will change human contact in healthcare?
Indeed the most relevant topic amidst a global pandemic; I believe human contact can be reduced drastically where it isn't required. Specialised AI bots will eventually reduce contact to a bare minimum.
Q: What does AI mean for the skill requirements of health professionals? How will it change?
Health professionals are consumers of AI and will need to adapt as they would with any other technology. Calculators didn't displace mathematicians; they enabled them and increased their productivity – AI, in some sense, is simply the next gen calculator.
Q: Which 2 people do you admire most in the world of AI?

My personal heroes are my PhD adviser Mark Hasegawa-Johnson and my mentor Steve Levinson. In addition to making seminal contributions to their respective AI sub-disciplines, they've always emphasised "learning how to learn." Well, meta-cognition is really the missing piece in AI, and they continue to motivate me in this direction.
Sujeeth Bharadwaj will speak at Intelligent Health Inspired (25 – 27 May 2020), the world's largest online summit dedicated to AI in medicine. Join Sujeeth and the global AI and healthcare community to create a future where AI will revolutionize health and #saveliveswithai
---
GLOBAL AI EVENTS CALENDAR

Here is your Global AI Events Calendar where you can meet the Inspired Minds community of business leaders, heads of government, policy makers, startups, investors, academics and media.
NEW! INTELLIGENT HEALTH AI WEBINARS
NEW! INTELLIGENT HEALTH INSPIRED!
25-27 May 2020
Online
london.intelligenthealth.ai/inspired
INTELLIGENT HEALTH
09-10 September 2020
Basel, Switzerland
NEW! WORLD SUMMIT AI WEBINARS
WORLD SUMMIT AI
13-14 October 2020
Amsterdam, Netherlands
WORLD AI WEEK
12-16 October 2020
Amsterdam, Netherlands
INTELLIGENT HEALTH UK
2-3 February 2021
London, UK
WORLD SUMMIT AI AMERICAS
20-21 April 2021
Montreal, Canada