We can't wait to welcome you to Intelligent Health UK 2023 taking place at the ExCeL London (Platinum Suite) on Wednesday 24th and Thursday 25th May.🤩

Our awesome AI-powered Networking Event app is now live! Check your inbox, you should have received an invitation to join the app. Also, don't forget to book your clinic time to apply for a share of NIHR funding at the event.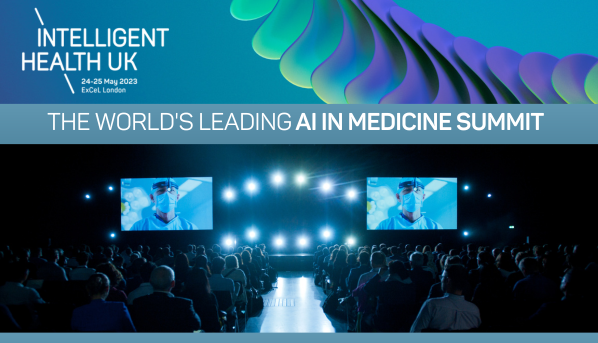 //the essentials

//AI powered event app

Our awesome AI-powered Networking Event app is live! Check your inbox, you should have received an invitation to join the app!

If you have joined our previous Summits, you can use the same log-in information. If this is your first time; you will have received instructions to the email address used to purchase your ticket. If you haven't received it or need help getting access, please contact us.

This AI-driven Networking Event app will give you access to the entire attendee list, allowing you to connect, chat and match with other guests that you will likely want to connect with. You will also be able to schedule meetings and plan your day so that you can make the most of all Intelligent Health UK has to offer.
//book your clinic time
The National Institute for Health Research (NIHR) will be at the event to answer any questions you might have on the application process for their funding programmes and how to access their Expert Partnering Service to find collaborators and support for your product development and evidence generation journey.
Please book your 10 minutes of clinic time with them if you'd like any questions answered on the application process to get a share of their funding:

- The i4i Programme (Product Development, Challenge and Connect Awards)
- Health Technology Assessment (HTA) and Public Health Research (PHR) Programmes
- Social Care research programmes
The NIHR Invention for Innovation (i4i) Programme funds Research and Development of Medical Devices, in vitro diagnostics and patient facing digital health technologies (NICE Tier C) to support the pre-clinical and clinical development of medical technologies in areas of existing or emerging patient needs.
Other programmes can also include clinical studies to support your evidence base - all can cover data-driven technologies based on AI and machine learning, wholly or in part.
PS: Please note that there are limited slots available so we recommend that you book your slot now to avoid disappointment. //the venue

Platinum Suite, ExCel London

One Western Gateway
Royal Victoria Dock
London E16 1XL

If you are travelling to the ExCel by public transport, the nearest station is Customs House. This is part of the DLR network. Use the TFL Journey Planner to plan your route or view on Google Maps.

If you are travelling to the ExCel by car, please use postcode E16 1DR for Sat Nav purposes and head for the West entrance of the ExCeL.

To find out more about how to get to the ExCel London, check out our Plan your Trip page

For information regarding accessibility, Covid safety and amenities please visit the ExCel London website

For free WiFi go to _ExCeL free Wi-Fi. When the open page comes up, scroll to Intelligent Health UK and register with your email address.

//opening hours

Wednesday 24th May (8 am - 6 pm)
Thursday 25th May (8 am - 5 pm)

Registration opens at 8.00 am on both days.

The opening session starts promptly at 9.00 am - Capacity in the Centre Stage hall is limited and is allocated on a first-come first-serve basis, you don't want to miss your opportunity to get the best seat in the house, come early!

//getting your badge
Please bring your e-ticket with you and remember to bring a form of photo identification on the day.

❗To ensure that we can print your badge in a flash on the day, please make sure that you have fully completed your ticket registration; open your ticket confirmation & click 'view/edit ticket' - ensure all fields are complete i.e. name, company, size, country & zip code etc.❗

❗If you ordered more than one ticket - please make sure that you have assigned each ticket to the email address of the person attending and ensure they complete the steps above too❗

//event programme

The event programme is available on our website and event app.

//exhibition area
You can meet Bayer, annalise.ai, John Snow Labs, Zühlke, Kemtai, ieso, Tucuvi, Kaleidoscope Consultants, Future Medicine AI Hub, Quiddity Health, Affiniti AI, Terawe, Lenus Health, Cydar Medical, XUND, Bitfount, Encode Health, Aival, FibriCheck, Hedia Unicsoft and Cogniss in the exhibition area. They are all industry experts and their friendly teams will be available to chat with you throughout the event!

//traveling to the UK
Please ensure you check the latest UK requirements for travel on www.gov.uk

//accommodation
We've secured preferential rates with local and nearby hotels for you. Book your hotel

//get social
We want to help #SaveLivesWithAI and solve some of the world's greatest health problems through tech! Join the conversation: use @IntHealthAI and the official event hashtag #IHUK23
Global AI and health events calendar 2023
Intelligent Health UK
24-25 May 2023
Platinum Suite, ExCeL London, UK
Intelligent Health
13-14 September 2023
Basel, Switzerland

Share your content with the Intelligent Health community

Got some interesting content you want to share with our community of over 220,000 AI and health Brains? You can send us anything from a published piece you have written online, white paper, article or interview. Submit it here